This year I decided to write something for JS1K. My entry is based on a game from my childhood called Thrust). The basic premise of the game is to navigate a ship down into a cavernous planet, retrieve a pod and escape with it back to space.
The original game featured simple physics, pixel perfect collision detection, fuel depots, nuclear reactors, gun turrets and tractor beams – there was no way I could recreate all this in just 1K so I had to decide which elements I wanted to try and keep… I ended up here:
Stay faithful to the original look.
Reduced number of game objects – a ship, a pod, the pod plinth and a map.
Pixel perfect collision detection – scraping the along cavern walls gives a real sense of panic.
Physics – the pendulum effect experienced when the pod is attached to the ship.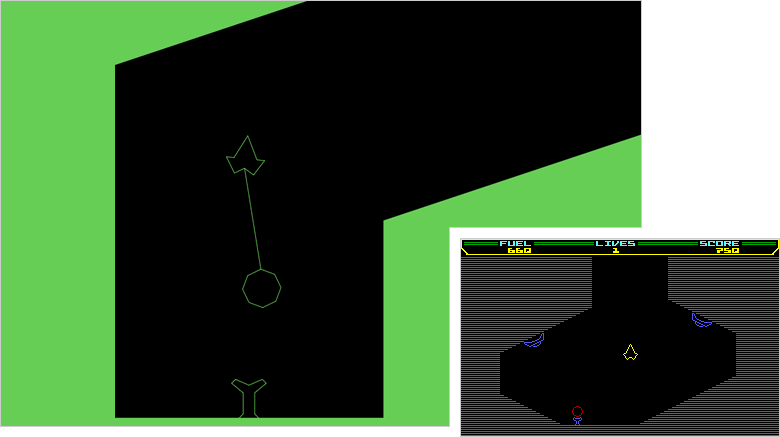 Early on I also decided to avoid using packers like RegPack and JSCrush because I wanted the minified source code to remain semi-legible. I have nothing against these tools, I just find the challenge of writing code to fit into 1K more rewarding than writing repetitive and verbose code that compresses well.
I found writing a game in 1024 bytes incredibly tricky. Many JS1K entires are rolling demos and don't need to worry about handling user interaction and dealing with consequences. Listening for input, handling collision detection and managing game state really eats up space!
Although my entry didn't make the top 10 it did receive an honourable mention.
The code
Here's the final source for my entry. The minification process is simple, remove all comments and white space from the original source and convert the setInterval function body into a string:
Here's the unminified, commented source code: